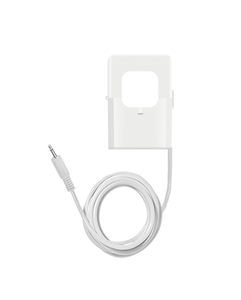 GEN 2 50A Large Diameter Sensor
Free Shipping
Emporia Energy
---
---
Need bigger clamps for your larger gauge cables?
Only works with Gen 2 Vues (2.5mm jack)

Not meant for use in the 3 main Vue Energy Monitor 200A ports
Single 50A current sensor for individual circuits
Inner diameter: 0.64" (1.6cm)
Outer dimensions: 1.78" (4.5cm) H x 1.37" (3.5cm) W x 1.57" (3.9cm) D
Cable lead: 5ft. (1.5m)
Each sensor is accurate from 0.17A - 75A (20W - 9,000W)
For use with the Gen 2 Vue (2.5mm side ports)

See how much energy is being used by important appliances and equipment, like your: air conditioner, furnace, water heater, washing machine, clothes dryer, oven/range, dishwasher, fridge/freezer, sump pump, house fan, sub-panel, pool pump, hot tub, or electric vehicle.